Hold an Unlearning Summit to Find Your Way Forward
This is the time of year when many firms shift their focus from working IN their business (delivering services) to working ON their business (strategy and professional/business development) during a firm or partner retreat. It's the perfect time for leaders to contemplate what they need to unlearn in order to move the firm forward. In the next three months, ask yourself and your leaders – what critical areas do we need to unlearn?
Learning is adding new skills or knowledge on top of what we already know. Learning is an adaptation or enhancement that doesn't fundamentally change an existing model. Unlearning is stepping outside of the current model or paradigm to choose a different model, and then relearning under that model. People sometimes shy away from the idea of unlearning because they feel like they failed somehow or that they've been "doing it wrong". But that isn't the case. We unlearn not because we were wrong before, but because there is new information or thinking that drives a need for change. In every aspect of business there are models that have become outdated. Unlearning is critical to fundamental and lasting change because it not only addresses the ideas that hold us back it also helps to create space in our brain for the relearning that needs to occur.
As you plan your firm's retreat or firmwide strategy session, consider an Unlearning Summit. The agenda of the Unlearning Summit goes something like this:
Discuss the baseline of where the firm is today in the following buckets: physical locations/ presence, financial performance, specialization, people, and technology and client service.
Ask each leader for his/her input on what they want the firm to look like three years—in terms of the buckets above. How big, in terms of revenue? How many locations? What areas of specialization? Etc.? You can gather this input via a survey ahead of time to encourage honest feedback. Compile a summary of the information along with outlying perspectives. This will give everyone insight into how aligned leaders are on the vision for the firm.
Have participants rate where the firm is today on a scale of 1-10—with 10 being the ideal. Average the scores and then discuss how do you move from where you are today up to the next level (so if your firm is a 7 today, what will it take to become an 8 in the next year).
Now, the fun part. Often this kind of exercise leads to the follow up discuss of what we need to add or change. Instead, pose this question: What do we need to unlearn to make it happen? What mindsets are getting in the way? What processes are working against the vision? What do we need to stop doing and replace with something else?
Make a list of the items and prioritize using the following matrix: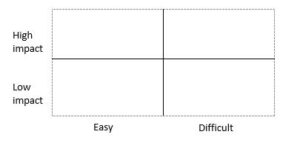 You can then prioritize and decide which area to tackle first. Answer the following:
Who should lead the unlearning?
What specifically needs to be unlearned?
What (if anything) will replace the thing we are unlearning?
What's in it for our people to unlearn and then re-learn in this area?
What will be our new measures of success?
What should be the timeline?
Institute an innovation committee to take the idea and explore ways to address the issue. Make this a multi-generational, multi-discipline group and give them the leeway to try some alternatives to existing models. Leaders too must champion the effort and learn to publicly support failure. Maybe you have to unlearn the mindset that being wrong is a negative. This can be hard for CPAs who make a career of accuracy. Henry Ford once said: "failure is simply the opportunity to begin again, this time more intelligently." We can all benefit from adopting that philosophy as a guiding principle.
Working with someone outside the firm in an unlearning endeavor can be really valuable. You can hire a consultant or ask a leader from another CPA firms in your network/association. You can even ask a client with which you have a deep relationship to facilitate the discussion. Outsiders can challenge the status quo, know what questions to ask and have no personal stake in the existing model.
Areas that May Warrant Unlearning
Here are a few examples of areas in which unlearning exploration may be important (note: don't limit your thinking to only these areas…they are just to get you started):
Performance evaluation systems: In recent years lots of firms have made efforts to update their systems using technology and even more frequent, real-time feedback vs the old way of doing annual evaluations. Firms learned a new process, timeline and software. Fundamentally, though, they didn't change their performance evaluation system. They changed how they evaluate. In some instances firms need to unlearn an evaluation system that is based on an outdated view of what is important – letting go of emphasis on technical aspects in favor of more social or communication aspects of their people's work. For meaningful change to occur the firm may have unlearn what it means to work for the firm – and maybe even unlearn what accounting is – to embrace a new definition.
Advisory: The old model of advice is to answer clients' questions or to do what they needed when they call. It's predicated on the practitioner having all the answers. Accountants need to unlearn this model of advisory that entails telling clients what to do (or doing it for them) in favor of a new definition which is bringing ideas to clients before they ask and collaborating with them to make them successful, even if it means the CPA isn't the one with all the answers. In the future it's likely there will be more unlearning fundamental to what accounting is and who accountants are.
Client service: As we look back on sheltering in place and social distancing firms are beginning to unlearn the definition of client service. Previously most CPAs thought about client service as all the activities outlined in the engagement letter. But as we all have come to value relationships more. We're using new tools to communicate. Some firms are unlearning their pragmatic definition of service. They are relearning a definition which includes a more holistic approach to checking on clients' needs. Practitioners are asking more questions about how clients are getting along mentally: is the client and the client's family physically well, how else the practitioner can help the client be successful. The profession is unlearning the transactional model of client service in favor of a more relationship-oriented model.
DEI (Diversity, Equity and Inclusion). Many firms are taking a hard look at what biases and hiring processes they need to "unlearn" to take an important step forward in DEI. Beyond simply crafting a statement, they are doing the work to identify how to make meaningful systemic changes.
Remote work. Almost every firm embraced some level of remote work in the past year-and-a-half. There is a significant difference between those that learned how to have employees work from home, and those that have unlearned a definition of "work" that limits where and how it can be done. Probably the most striking difference is a shift from managing processes of work to managing outcomes from work. Firms that manage to outcomes will create tremendous growth opportunities for the people they attract. The value they deliver and the levels of client loyalty the firm achieves will surpass levels of those that did not unlearn the old mindset.
Some of the things your firm needs to unlearn to move forward may be even more difficult because they are less well defined and less linear. They feel uncomfortable because they challenge people to re-think what they have always been taught or what they believe. The profession has spent decades learning and refining the current systems. But the landscape has changed and it's time to unlearn some of those ideas that may now keep the profession from moving forward. This year use your firm retreat to evaluate what you should unlearn. Don't try to tackle all the unlearning at once. In the next three months instead of focusing on what you need to add or learn in your firm, identify what must be unlearned in order to make space for relearning.
http://www.thewhetstonegroup.com/wp-content/uploads/2018/03/The-Whetstone-Group-Logo-Black-110.png
0
0
The Whetstone Group
http://www.thewhetstonegroup.com/wp-content/uploads/2018/03/The-Whetstone-Group-Logo-Black-110.png
The Whetstone Group
2021-06-23 03:31:31
2021-06-23 03:31:31
Learning to Unlearn